A-Z Impacts of Plastic Online Discussion
From Fracked Gas to Plastic Pollution in the Ohio River Valley and Beyond
Join a social network with events, arts, and discussions around the impacts of plastic and what we can do about it.

This project began as an online event series culminating in a summit with panel discussions and art builds. There are still events and networking happening in the Campaign Network, a platform for anyone concerned with the oil & gas industry and looking to connect with people and groups taking action.
*Signup for the Campaign Network group to be included in announcements.
You'll be able to setup a profile and join the discussion right away. We respect your privacy, and you can unsubscribe anytime.
Summit Replays Available
>> Join the forum to access the replay videos and discussion from the previous digital series.

Each month from May to August the A-Z Digital Series explored the impacts of plastic in 4 areas of our lives, health, economy, environment, and climate. Guests also participated in networking sessions and breakout discussions. Now there are over 500 people who have participated in the digital series and we're coming together for a final, 4 day event in September.
Story of Plastic Film Screening with Creator Stiv Wilson in conversation with Film makers Melissa Troutman and Mark Dixon

Healing HeARTS Event with Open Mic and Art Build

Panel Discussion & Networking with Diane Wilson, Ranjana Bhandari, Julie Dermansky, General Russel Honaré, William Barber III, Luke Early
Solutions and Actions Panel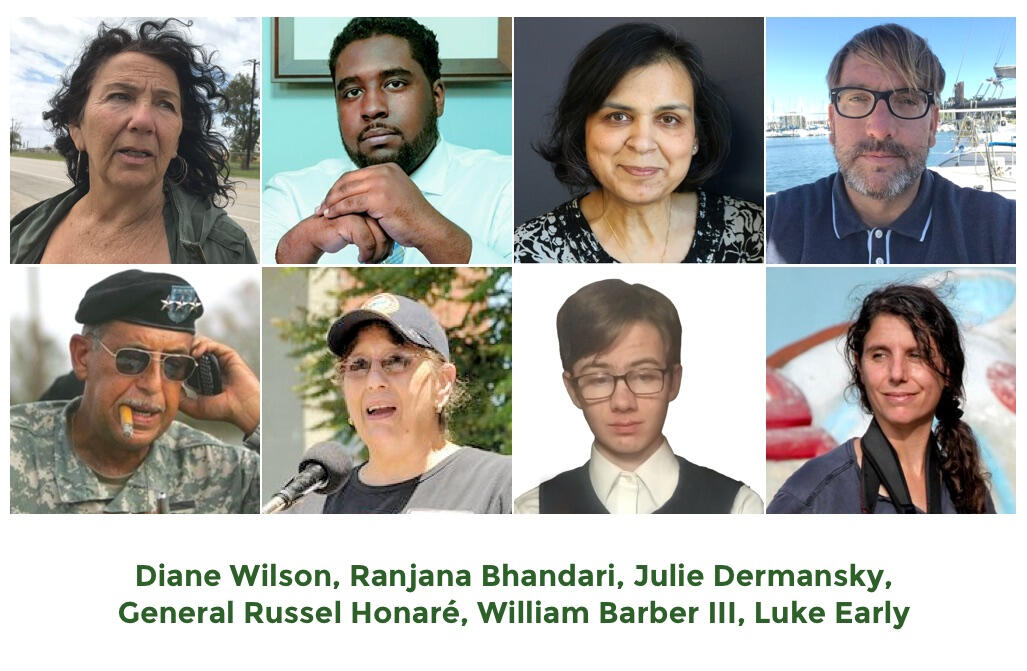 Digital Series (Replays available)
May 19 and 21 - Impacts on Health, with Dr. Ned Ketyer and Julie Dermansky (replay available)

June 16 and 18 - Economics, with Patricia Demarco and Travis London (replay available)

July 21 and 23 - Environment, with Justin Nobel and Wilma Subra (replay available!)

August 18 and 20 - Climate with Leann Leiter and Jed Alegado (replay available)
More details coming soon! Be sure to sign up to get details and link to join.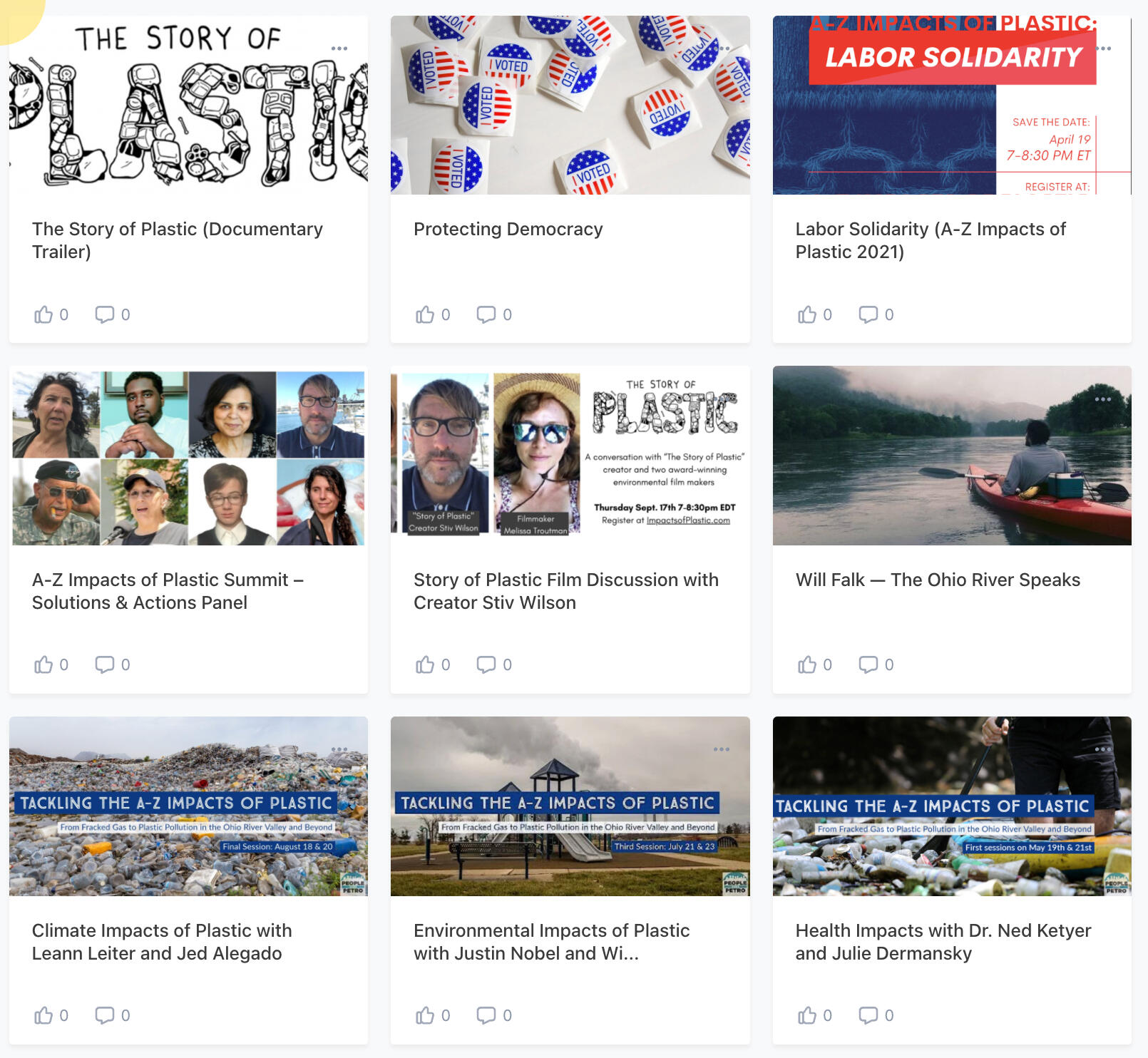 Register by Creating a Campaign Network Profile
The discussion is happening in the Campaign Network, a social platform for people taking on the oil & gas industry.

Set up your profile, view the program, and RSVP for the events you want to attend.
Sponsored by
BCMAC – Beaver County Marcellus Awareness CommunityBreak Free From PlasticBreathe ProjectBuckeye Environmental NetworkCenter for Coalfield JusticeCenter for Health, Environment, and JusticeClimate Reality ProjectConcerned Ohio River ResidentsExtinction Rebellion KYFractracker AllianceFreshwater AccountabilityHalt the Harm NetworkIndigenous Environmental Network,Kentuckians For the CommonwealthOhio Poor People's Campaign: (A National Call for Moral Revival)Ohio River GuardiansOhio Valley Environmental CoalitionPASUP (Pittsburghers Against Single Use Plastics)People Over Petro
After you register you'll get the program including all links to join live sessions.
Copyright 2020 ~ A-Z Impacts of Plastic
Got it...
Your email preference have been updated. If you unsubscribed by mistake, go back to impactsofplastic.com and join again. Thanks!
One more step...
You're registered! That means you'll get the summit program as soon as it's ready. You can join the discussion and access the replays in the A-Z Impacts of Plastic forum in the Campaign Network.
It's easy to participate in the network forum. You can sign-up via email, or with a Facebook or LinkedIN profile.
The Summit is taking place in the A-Z Impacts of Plastics membership site in the Campaign Network. Create an account and join the discussion. This your chance to connect with others working to protect our health, economy, environment, and climate from the impacts of plastic.
Copyright 2020 ~ A-Z Impacts of Plastic